About Us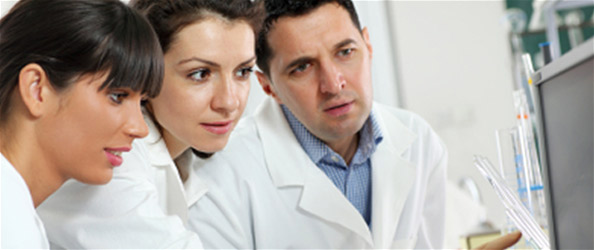 Organizational Values
The Syndicate's organizational values serve as the basis of our vision for the future and guide our strategic direction. These values describe the manner in which the Syndicate wishes to be seen, shapes the way members fulfill their responsibilities and finally guides the decision-making in determining priorities and resource allocation to meet people's health needs. These values include:


Professional Ethics: To expect members and inherently hospitals to practice professionally and ethically with colleagues and patients and ultimately demonstrate respect for human life
Continuous Quality Improvement : Strive to continuously improve the quality of healthcare provided by maintaining adherence to designated standards and encouragement of 'best practices' in all hospitals
Open Communication/Dialogue: The Syndicate openly communicates decisions, activities, obstacles and plans to other stakeholders and to the public to maintain a level of transparency.
Multidisciplinary team work: To work with multidisciplinary teams based on mutual trust and valuable transfer of knowledge and expertise.
Commitment to Strategic Direction: To achieve and maintain the commitment of all members in the Syndicate and the healthcare community for the implementation of the Syndicate's Strategic Plan.
Strategic Goals
Quality and Performance Improvement: Improve quality and responsiveness of healthcare services and strengthen the role of the Syndicate in promoting performance improvement. Ultimately to ensure the provision of quality healthcare to the Lebanese population.
Partnership Working: Promote and develop local, regional and international partnership, including but not limited to universities, Health Organizations and the MOPH, as well as collaborative efforts with providers to optimize the use of scarce resources and maintain continuous knowledge transfer to improve health status in the region. Provide a model to initiate, promote and support collaborative efforts with other government and non-government organizations that work towards improving hospitalization services in Lebanon
Organization and Management: Ensure the appropriate organizational structure of the Syndicate is in place to implement the Strategic Plan. Strengthen competencies and capabilities as well as resources to provide a sustainable environment for progress and success.
Education, Research and Development: Strengthen education, research and development, in partnership with other agencies to focus on health services research. Research findings will be used to improve the quality and delivery of healthcare services
Background of the Syndicate
The inspiration to create an association to cater to both hospitals' and patients' demands originated during a meeting between Dr. Wahib Nini, Dr. Adnan Haidar, Dr. Faouzi Adaimi, and Dr. Mustapha Khalidy. Soon after this association was initiated, the number of members increased, under the guidance of Dr. Wahib Nini, with a growing need for a larger, more comprehensive and independent organization. As a result, a founding committee congregated representatives and owners of the Lebanese private hospitals.
The Syndicate of Hospitals in Lebanon was established on November 15th, 1965, as the official representative of all private hospitals through the Ministerial decree 1/523. The first Administrative Council was elected on January 8th, 1966, with Dr. Toufic Rizk (owner of Rizk Hospital) as the first President of the Syndicate who was re-elected two years later. His successor Dr. Adnan Haidar (owner of Haidar Hospital) remained President until 1983, the year of Dr. Faouzi Adaimi's (owner of Notre-Dame du Liban Hospital) election. Dr. Adaimi remained president until Mr. Suleiman Haroun's election in 2003.
The Syndicate of Hospitals in Lebanon combines 157 private hospitals (138 short and medium stay and 19 long stay) and is considered to be the official and basic negotiator with the public and private administrations, organizations and institutions in the health care sector.
The Syndicate of Hospitals in Lebanon is itself a member of many organizations, federations, committees and councils. The Syndicate of Hospitals in Lebanon is a:
Founding member of the Arab Hospital Federation.
Founding member of the National Committee for Health Tourism.
Member of the UIHP (International Union of Private Hospitalization-Paris).
Member of the IHF (International Hospital Federation - London).
Member of the Superior National Health Council.
Member of the National Economic and Social Council.
Member of the following joint committees:
With the Ministry of Public Health:

Classification of hospitals committee
Implementation of conventions committee
National committee for health emergencies

With the National Social Security Fund:

High medical advisory committee
Hospitalization committee

With the Cooperative of Civil Servants:

Implementation of conventions committee

In addition to participation in committees with the:

Order of Physicians.
Federation of Nursing Associations.
Association of Insurance companies
Board and Administration
The General Assembly, which is composed of all the members, elects periodically an Administrative Council composed of 12 members to act as the governing body of the Syndicate of Hospitals in Lebanon. From within its members, the Administrative Council elects an Executive Committee composed of the President, the Vice-President, the Secretary and the Treasurer. There are also Standing Committees for:
Legal studies and hospital ethics.
Financial, economic and statistical studies.
Information and scientific affairs.
Professional medical and paramedical staff.
Hospitals for long stay.
The Syndicate of Hospitals also comprises an Administration body, a Legal Counselor, a Media Consultant and a Research and development Coordinator
Organigram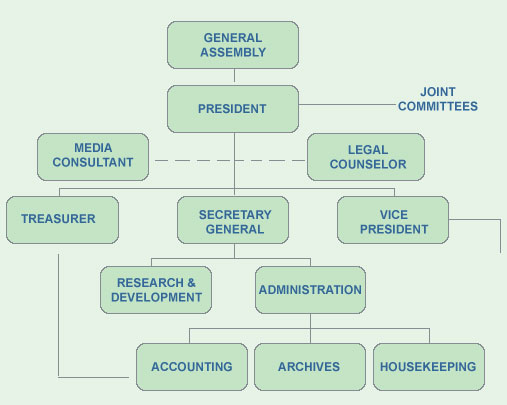 Activities of the Syndicate of Hospitals in Lebanon
Holds a yearly Health and Hospitalization Congress in order to promote scientific, academic and technologic development, and to provide information on health to the public.
Organizes meetings on health in collaboration with all concerned local, Arab, regional and international syndicates, orders, associations and organizations.
Sets criteria for classification, assessment and accreditation of hospitals and hospitalization tarrification in collaboration with the Ministry of Health.
Aims at standardization of the health system by unifying the various public funds for health coverage, and providing of health insurance to all citizens.
Promotes the cooperative of hospitals in order to reduce the cost of health care.
Organizes continuing education sessions to hospital personnel on various topics including Quality Assurance, Cost Analysis and Budgeting, Occupational Health and Safety and many others.
Undertakes operational research studies on the hospitalization sector in collaboration with universities and other stakeholders.
Hosts student internships from the American University of Beirut's Faculty of Health Sciences Graduate Program.
Addresses issues like the complaints of citizens, hospital personnel, concerned institutions and organizations, and seeks solutions.
Enhances adequate and efficient cooperation and solidarity among hospitals. ▪ Participates in the international health and hospitalization meetings and congresses.
Gathers data on hospitals within the scope of a National Hospitals Database creation, and carries out information analysis to support policy development and track trends.
Disseminates communications and publications to keep members informed of the Syndicate activities and relevant information in their field.
Publishes periodically the official journal of the Syndicate that contains articles dealing with health care and hospitalization sector.
Vision
The Syndicate of Hospitals vision is of a society of healthy populations where all individuals have access to a premium quality of healthcare services.
Mission
The mission of the Syndicate of Hospitals is to ensure high quality services to all individuals and to promote Lebanon as a referral center for tertiary health care in the Middle East. The syndicate represents and serves private hospitals, and works in partnership with stakeholders that are committed to improve and protect health.